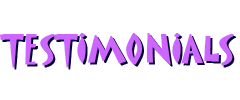 Kevin has done a couple of hypnosis sessions with me that allowed me to travel back into my past lives and to a place where I could feel the energy of my being, my soul, in the time and space of the universe. Each time I experienced an intense feeling of being loved and of peacefulness. To know that this life, is not all there is, may be the greatest gift I have ever received. To be able to let go of the hurts and maladaptive behaviors I carried with me from my current life and past ones has changed the course and the quality of this life for me. Nothing I have ever experienced on this plane has been asprofoundly healing and joyful. I am so grateful, it has saved my life.
Ellen,Atlanta
I can honestly say that meeting Kevin has changed my life for the better in many ways. He gave me freedom from several negative sprit entities that were bringing daily anxiety and fear into my life. He has also done energy work to help me release deep-seated patterns of behavior and thinking that were detrimental to my well-being. I highly recommend his services to anyone!

Lisa, Atlanta, GA

I have known Kevin for well over five years. Kevin is the "real deal" and has cleared me and my family of entities that attach when visiting or working in a hospital. He has also worked with my husband who had a non-malignant brain tumor. Kevin's energy work helped to get him back on his feet and help him believe he would recover. I know this is hard to believe. I would suggest that anyone with interest in this area meet with Kevin once. You will know yourself after the meeting.

Susan, Atlanta, GA
Of all the gifted people I have encountered, Kevin is the only one who genuinely helped me with all my major problems in life. I used to see black figures with my eyes closed and shadow figures on the wall. I was scared of talking to people and passing by traumatic places because they usually give me a bad feeling that will not allow me sleep for weeks. I couldn't concentrate with my studies and I felt weak, scared, and sick even though I was not. I was miserable until I contacted Kevin and he took all those bad things away in one day. He removed a dark soul from my body along with all the negative entities and bad energies. By the way, he's very honest and realistic, and he just wants everybody to face their issues instead of denying it because it might/will get worse.
Julie, Toronto, Canada
Kevin's healing energy work is an amazing and powerful experience. His insights can help bring clarity, relief and calm; help you understand current situations or problems you are experiencing in your life and enable you to take positive steps to move forward.

Helen, Manchester, UK

Kevin helped me avoid a potentially bad situation with a massage therapist who called himself a shaman and had dark intentions for me. Kevin removed what he called an "implant" put in me. The next day I felt more in control of my life and less anxiety.

Charlene, Plainfield, IL
After a clearing from Kevin I noticed that I was feeling calmer and my
mind seemed quieter the next day.
Barbara, Atlanta, GA
My wife can see spirits and she saw Kevin remove
them from our house.
He told us our land was partially on
a Native American burial ground.
He talked to the spirits and I don't know what
he said but they agreed to leave us alone.
That was 18 months ago and we have not
had problems since then.

Tom & Alisha, Douglasville, GA

I had two sessions from Kevin for a rash that
no dermatologist could cure.
He fixed it, and his mojo has made me more comfortable
and in control of my personal destiny.

Licious, Atlanta, GA